The mission of the Red River Regional Dispatch Center is to enhance the quality of life of every person in Cass County, ND and Clay County, MN by receiving and processing 9-1-1 emergency and non-emergency calls and by dispatching police, fire and emergency medical response units in a prompt, efficient, courteous and professional manner; to help save lives, protect property, and assist the public making safer communities in which to live, work, and visit.
History
In 2001, a Joint Powers Agreement was entered into by the City of Moorhead and Clay County, Minnesota; and the City of Fargo and Cass County, North Dakota to combine public safety communications and dispatch services into a jointly operated dispatch center.
The RRRDC Board of Authority was formed to administer the joint dispatch center undertaking.
In March of 2002, the Board hired its first Director and in December 2002, the Red River Regional Dispatch Center, as an independent North Dakota entity, opened up for business. At this time, all "cross-trained" ND/MN dispatchers were transitioned into the RRRDC organization. For approximately ten months, the Fargo and Moorhead dispatch sites remained in operation until October 28, 2003 at which time the cut-over was made to the new facility.
In March of 2008, a need was seen to consolidate the third dispatch center in the region into the RRRDC at which time the City of West Fargo, North Dakota joined the consortium.
Our dispatch consolidation is the first in the nation to cross state lines to manage dispatch operations and personnel independently from the agencies it serves.
RRRDC Authority Board
The Red River Regional Dispatch Center (RRRDC) Authority Board is the governing body of the Red River Regional Center.  Authority Board members are from each entity of the Joint Powers Agreement.  Members are elected or appointed by the members entity's governing body.   The Chair and Vice Chair are elected by members of the Authority Board.
2023 Members of the RRRDC Authority Board:
Cass County Commissioner Chad Peterson (Chair)
Cass County Commissioner Mary Scherling
Fargo Mayor Timothy Mahoney
Fargo Commissioner Denise Kolpack
West Fargo Commission President Bernie Dardis
West Fargo Commissioner Mark Simmons
Moorhead Mayor Shelly Carlson (Vice Chair)
Moorhead Council Member Ryan Nelson
Clay County Commissioner Kevin Campbell
Clay County Commissioner David Ebinger
Organizational Chart
Facility
The Red River Regional Dispatch Center operates in a 5,224 sq ft secure facility.  The building previously was used for manufacture. It was renovated by Mutchler Bartram Architects.  Luxury loft condominiums were built on top of the building in 2004.
The Center's architectural design is an example of  reversing the trend that formerly placed 9-1-1 dispatch centers in windowless cramped environments.  Sunlight illuminates the high ceiling, loft style administrative offices and dispatch floor. Exposed original brickwork and the warm earth tones and textures incorporated into the design provides a sense of tranquility to balance the hectic and stressful work environment.
This space was purchased in 2015 by the RRRDC after leasing it for eleven years.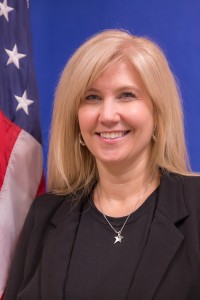 Mary Phillippi
Director
Mary Phillippi is the Director of the Red River Regional Dispatch Center (RRRDC) located in the heart of the Fargo-Moorhead metropolitan area. This consolidated Center has been recognized as the first of its kind as it serves Public Safety agencies in two separate states. The Center, which began in 2002, employs forty-six full time employees and serves fifty-seven Public Safety agencies in North Dakota and Minnesota.
 Ms. Phillippi has over 34 years of Public Safety Communications experience.  She started her career in Moorhead/Clay County, MN in 1988 as a Communications Operator.  In 2002, when the Fargo/Cass, ND and Moorhead/Clay, MN dispatch centers consolidated she was promoted to Shift Supervisor.   She was promoted to Assistant Director in 2010.  Ms. Phillippi has served as Director since April 2015.
Ms. Phillippi is a member of the Association of Public-Safety Communication Officials (APCO) and  National Emergency Number Associations (NENA).  She was the recipient of the ND Chapter of APCO Supervisor/Manager of the year in 2004 for her exceptional leadership and demonstrated professionalism in contributing to public safety in North Dakota.   She received the designation of Emergency Number Professional (ENP) from the National Emergency Number Association. Ms. Phillippi holds a Bachelor of University Studies with a Management Concentration from the University of Mary, Fargo.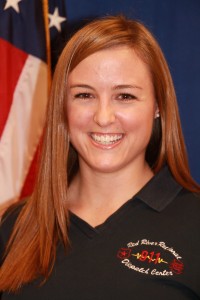 Amanda Glasoe
Assistant Director
Amanda Glasoe is the Assistant Director for Red River Regional Dispatch Center (RRRDC) located in Fargo, ND. Red River Regional Dispatch serves police, fire, and EMS agencies in Cass County, ND and Clay County, MN. RRRDC is a consolidated center, the first of its kind serving jurisdictions in two different states.
Amanda Glasoe started her Public Safety Career as a Communications Operator in 2004. She became involved in 9-1-1 Education for Kids as an Instructor in 2007. Through this program she spoke to 2nd grade age children across Cass and Clay Counties educating them about when to call 9-1-1, what to say to the 9-1-1 dispatcher, and what to expect when dialing 9-1-1. This program also connected her with children who were hearing impaired, church groups, children camps, and daisy troop girl scouts to teach the importance of knowing how and when to use 9-1-1.
In 2010 Amanda was selected to be on a Fire/EMS Operations Committee and served with this committee for two years. Being a member of this committee involved being a Liaison with participating agencies resolving problems or concerns regarding operational issues and reviewing dispatch protocol and procedures.
Amanda Glasoe was an integral part of building CAD (Computer Aided Dispatch) used today produced by New World Systems. Amanda worked on a team of build members learning the software and its functions, discussing unit recommendations, templates, call types for service, etc. The team built the system to include layers of information creating a system that was user friendly and applied some of the same effective functioning as the previous AS400 system. She created several lesson plans for the dispatchers and provided one-on-one training to the employees before the go live date in March of 2011.
In 2011, Amanda Glasoe was promoted to Shift Supervisor. As a shift supervisor some of her primary responsibilities included Continuing Education and Emergency Medical Dispatch Education and Quality Assurance. As supervisor she oversaw shift dispatch operations and assisted communications operators. Amanda Glasoe is a member of the Association of Public Safety Communication Officials (APCO).
Amanda Glasoe grew up in Mapleton, ND and Fargo, ND and attended North Dakota State University. She is proud to serve those in the Red River Valley a place she has called home and continues to raise a family.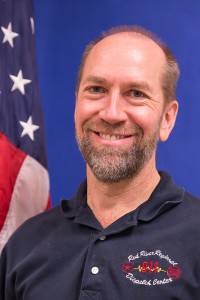 Brian Zastoupil
Radio Systems Coordinator
Brian Zastoupil is the Radio Systems Coordinator for the Red River Regional Dispatch Center (RRRDC). His responsibilities not only include the oversight of Public Safety communications of RRRDC, but all of the agencies which RRRDC serves.  These agencies include the police and fire departments in the cities of Fargo, Moorhead, West Fargo, as well as the police, fire and EMS agencies in rural Cass County, ND and rural Clay County, MN.
Previous to working at the RRRDC, Brian Zastoupil spent over twenty years working for a communications company in southern Minnesota. During this time, he was responsible for the design, engineering, installation and maintenance of numerous public safety communications systems.  These systems consisted of dispatch consoles, tower infrastructure, repeaters and other related communications equipment.
In 2006, Brian Zastoupil began his career at RRRDC. His responsibilities include the site acquisition, oversight and project management of regional radio system as mission critical public safety communications are upgraded, enhanced, and brought on-line.  His duties also included grant maintenance and writing to acquire communications equipment, as well as involvement with additional emerging technologies. They include Public Safety Broadband-FirstNet, State of MN ARMER Radio system, and voice logging, just to name a few.
He serves on the NW Minnesota Regional Radio Advisory Committee (RAC) – Technical & Operations sub-Committee Chair, numerous State of Minnesota- Emergency Communications Networks committee positions including Strategic Technology Reserve, Interoperability Committee and Data Interoperability.  He is also a State of North Dakota- 700 MHZ Planning committee member.  He holds several certifications to include FCC General Radiotelephone Operator license as well Electronics Technician Association (ETA) Senior Certified Electronics Technician.
Brian Zastoupil holds an Associates of Applied Science degree in Communications Systems Technology from the North Dakota State College of Science.